Slick is a red fox, which has pink eyes. It was introduced on December 30th, 2014. According to the tag, it's birthday is May the 1st. Slick's official catchphrase is "I'm sly in the forest, I hide under wood, A visit from hunters would never be good."
Appearance
Edit
Slick is a red fox, with pink eyes. It has a white torso like most beanie boos, a black nose and black paws. It has an orange tail, with white tips at the end. It's height is approximately 7 inches.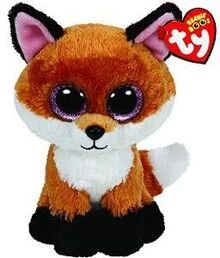 Ad blocker interference detected!
Wikia is a free-to-use site that makes money from advertising. We have a modified experience for viewers using ad blockers

Wikia is not accessible if you've made further modifications. Remove the custom ad blocker rule(s) and the page will load as expected.